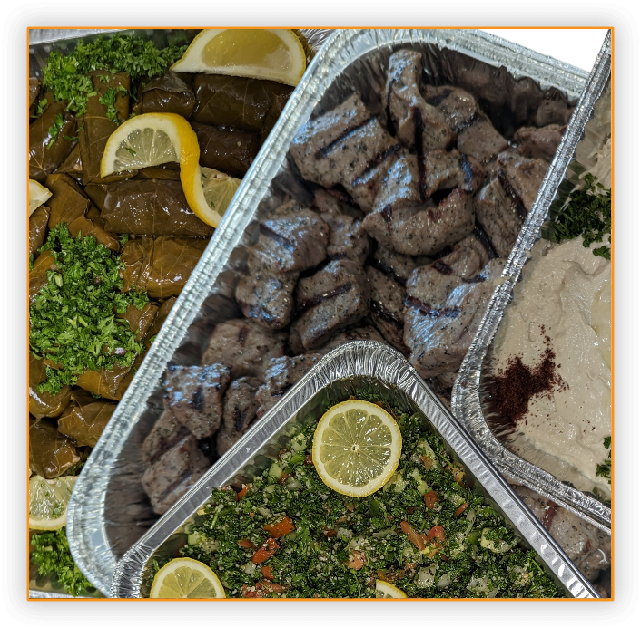 Middle Eastern & Mediterranean Restaurant located in Schaumburg, Illinois
Our menu offers a good selection of soft drinks, traditional Middle Eastern dishes, and sweets. To have a dish for everyone, the menu includes vegetarian and non-vegetarian dishes. We try our best to provide our customers with the best service while serving them the finest Middle Eastern food and pastries. Our prices are very affordable; check our menu page to see the incredible prices we offer. All dishes are prepared at the time of the order in an open kitchen in
front of the customers. You can eat in or carry out, You can order online or call us ahead of time for your carryout order, and your order will be ready for you by the time you get to the restaurant.

---
OPEN
MONDAY- SUNDAY
11:00 am – 9:00 pm
Catering Services
We specialize in catering for all occasions:
Anniversaries, Parties, Birthdays, Events, and Weddings.
*Minimum of 15 people
GRILLED MENU
Minimum 24 hours in advance*
TRADITIONAL MENU
Minimum 5 business days in advance*
A LA CARTE MENU
What Our Customers Are Saying

"This is my best place i love it Ashraf is my man Thank you Ashraf for all your work in both restaurant Lombard and Schaumburg."
L.G.

"Ambient restaurant with a great outdoor seating area. Staff are friendly and helpful. The food is as expected, you get what you pay for."
A.M.

"Wife and I ordered pick up for first time and had falafel sandwich and lamb entree. Loved the meats and will be back! Highly recommend."
B.G.